Wireless Remote Curtain Control, make life easier with Artrak remote control. Simple D.I.Y Installation – just replace cord weight with motor unit.
 

Affordable.

Practical.

Quiet operation.

Durable.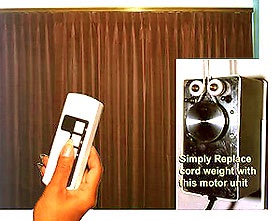 Inaccessible windows are now no longer a problem. When you can't reach your curtain cord because of:

 

recessed windows.

armchair in the way.

you have to lean over furniture, t.v.

it's just inconvenient or difficult to get up.
Perfect for people suffering from quadriplegia to simple arthritic disabilities, you will find that Artrak wireless remote control will make life easier.
Fully co-ordinates with security systems to open and close at set times, increasing the security in your home when your away. Also co-ordinates with home theatre systems and silent butler system.